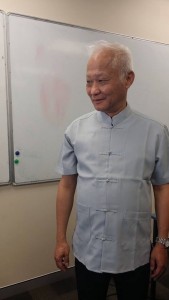 It was a shocking and tremendously sad news for all of us yesterday. Sadly, Dr Tan passed away in December 2015.
As Jairo Salazar said, 'Dr. Tan's wish is that the Balance Method lives on well beyond his death'
I am deeply saddened by the loss of Dr Tan. Please accept my heartfelt condolences. When he passed, I felt even deeper that all his life was about GIVING, this is the main thing that the Teacher taught. It was not only about skills, it was about being, it was about kindness, love and sharing……. we come to this planet not only to be good teachers, drivers, doctors or designers. We came to Earth to grow up our souls….. Thank you Dr Tan, I was blessed by meeting you.
In memory of Dr. Tan, there is an initiative to set up Dr Tan's Method Acupuncture Centre/ multi-bed clinic in London.
This centre will promote Dr Tan's balancing approach and philosophy, spreading his knowledge in a practical way.
It can also be where Dr Tan's method practitioners can exchange their experience, meet up and share their wisdom with beginners or those who knew about Dr Tan's method but did not practice it yet.
It was his passion to spread his knowledge of Chinese Medicine to as many practitioners as possible, so I believe that we can contribute into that.
If any of you are interested in this idea and would like to join the group, please email helianthusclinic@gmail.com or call +44 7449325697 (for UK 07449325697) If you know practitioners in London / UK, please share this message.
May we all bring Dr. Tan's skills and joy into the world.