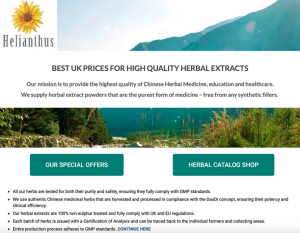 Helianthus team would like to share with you good news. We have finished setting up the online Chinese herbal shop which is now ready for everyone to visit.
We have received the approval from RHCM as a supplier of herbal extract powders and we are very proud to say that the shop offers the BEST UK PRICES FOR HIGH QUALITY HERBAL EXTRACTS!
All the extracts are certified and of great quality, we have been using them for our patients for over a year and are extremely happy with the results.
I hope you enjoy browsing our shop!